A growing company, with a boutique mindset
Laguna Laundry
With a combined experience of over 50 years we stand as one of Melbourne's most skilful launderers, with an
excellent reputation
About Us
Founded in 2010 by ADT Commercial Laundry, the owner built a successful business mainly focusing on the top end of the hospitality industry.
In February 2014 the business was purchased and renamed Laguna Laundry and Linen Services. The new owners James and Cynthia have continued to uphold these values as well as expanded into other industries. Our business philosophy is to build strong long term partnerships with our customers through a focus on quality, integrity, trust and superior customer service.
Laguna Laundry and Linen Services
A blend of traditional personal care and industrial muscle guarantees all linen is carefully and thoroughly laundered and pressed.
We take great pride in providing our hand folded finished linen services, where each items is individually and carefully hand press and then hand folded by our dedicated, passionate staff.
As we do not use flat work ironers, you can be assured that each laundered garment delivered is less likely to have crease imperfections.
We also have state of the art, large capacity industrial washing extractors, dryers and pressing machinery with specific wash programme cycles, carefully developed for different textiles and soiling levels. Together with the use of premium quality detergents, grease emulsifiers and stain removing agents provide optimum cleaning results.
With a combined work experience of over 50 years, we stand as one of Melbourne's most skilful launderers, with an excellent reputation, servicing some of Melbourne's major companies with linen hire and laundry needs.
We believe our knowledge of the business, the industry and our clients' needs, combined with our fast turnaround time places us second to none.
We also hand check our client's own goods (COG) for faults in the linen and stubborn stains that may have remained from the initial wash. In these cases, the items are rewashed to remove the stains. Where stains can't be removed, or there was prior damage, we bring this to our client's attention.
Laguna also provides laundering services for marquee liners (for all sizes up to 25 metres in length) and specialised clothing used in the hospitality industry. Items such as waiter's jackets, chef's jackets, corporate shirts, dresses, aprons, curtains, drapes, table cloths, chair covers, napkins, polishing cloths and tea towels.
We carefully hand check all our hire linen and discard any damage or worn items, ensuring our clients only receive orders that are consistent with their high standards.
We provide a commercial pick-up and delivery service. For our higher volume commercial clients, we operate daily delivery services.
Manufacturer
Laguna Laundry & Linen services is a leading manufacturer of commercial tablecloths and linen for reception venues, the hospitality and events hire industries.
We design and manufacture custom size linen including round linen, boxed linen, conference cloths, table skirting, table runners, napkins, place mats, aprons, marquee liners and more.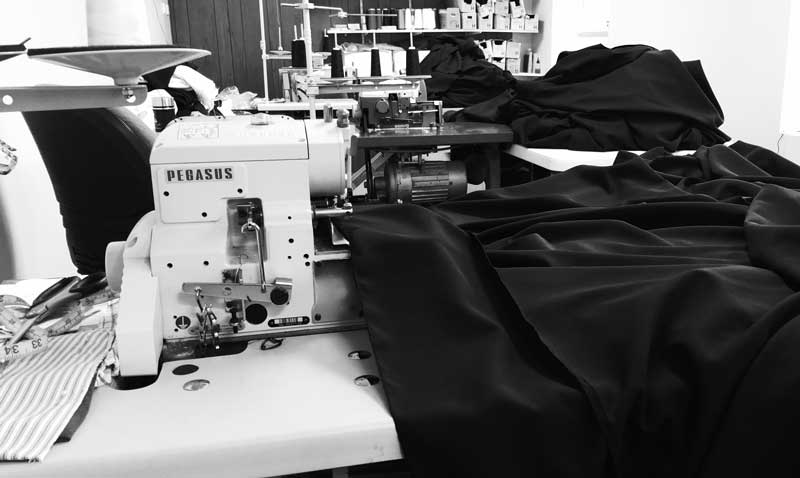 All this is done in-house by our qualified sewing machinists.
Anti-fatigue & carpeted mats – Hire Service
Laguna provides a Mat Hire service of Anti-fatigue and Carpeted mats.
The anti-fatigue mats are perfect for areas where workers may be stationary for extended periods of time, minimising tired feet, insulate against cold floors and generally improve staff moral and productivity. These mats are constructed of 100% nitrile rubber providing superior grease and oil resistance.
Carpeted mats are an excellent choice for any entrance, capturing 80% of the dust, dirt and moisture tracked into the buildings. on customers' and employees' shoes. These mats are made of soil grabbing, high twist nylon yard with non-skid 100% nitrile rubber backing.
James and Cynthia, and their staff, are a pleasure to deal with. They always do their best to provide a high quality service in a timely manner. We trust Laguna Laundry with our full range of fabrics to be treated with the up most care and professionalism.